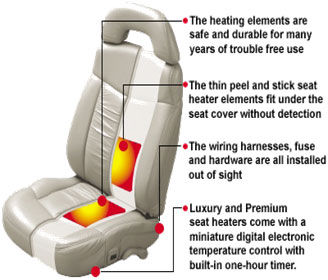 Seat Heaters
Seat heaters can be installed in almost any vehicle. Seat covers are easily removed and the heating elements are adhered to the seat base foam.
The seat cover is then re-installed according to the original factory design. The seat heaters do not change the look of the seat, but they do enhance the feel and comfort.
Each seat heater is individually fused and safely wired into the vehicle's electrical system. A separate lighted switch is provided with each system.
Have Any Questions? We can help! Call Us at 248-649-3131